Tag Archives:
Wimbledon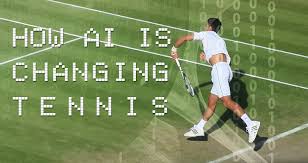 This collaborative approach really helps to show the role of people in training AI systems – at least so far. How far away are we to automate the data collection process? Boyden said that we could have done 70% or 80% of them in an automated way – this number is positive when coaching, but the challenge we have at Wimbledon is that the league requires 100% accuracy at all times.
In the future, a series of changes will be possible and Watson will gradually take on more responsibilities. Currently, it is only supporting people, but in the future, it may begin to make its own recommendations, which will then be confirmed by a tennis expert.
Objectives from this partnership:
Increase the fan experience on the platform by accelerating and improving the match focus production process over a 13-day period.
Expand the content by creating a solution that makes it easy to scale, providing highlights from the Wimbledon stadiums that have never been used before. Support Wimbledon's strategic goal, reduce dependence on third parties, thereby helping Wimbledon enhance control of the output quality of the content.
Create quality outputs to hand over to international broadcast partners.
Reduce the pressure on editorial and content groups, allowing them to focus on other areas that add value to the content. Contribute to improving video performance on all Wimbledon platforms in the Championship.
In the competitive digital and sports environment, Cognitive Highlighs helped attract 69.9 million digital hits in the Championship (69.4 million in 2016) and 436 million page views (395 million in 2016)
14.4 million views of new accent videos were created without human intervention.
A total of 250 premium packages were created, an increase of 252% from the 2016 Championship.
Reduce turnaround time from a minimum of one hour to 15 minutes.
Automating the highlighting process of the match allows the content team to focus on serving the digital community, creating a total of 200 million video views on all platforms.
Outstanding scenes that are not used (due to limited rights) continue to be utilized by the team to maintain the audience's engagement outside the Championship.
The new Cognitive Highlight approach drew the attention of the press with Wimbledon's digital platforms, with 247 articles earning over 31 countries up 21%.
This is the first technical solution that uses existing IBM patents.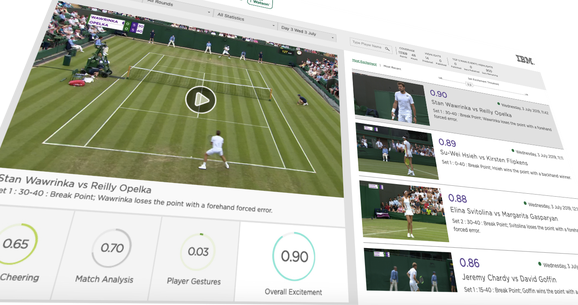 Audiences will surely remember the breathtaking tennis final between Novak Djokovik and Roger Federer at Wimbledon 2019 on July 14th. Wimbledon tennis championship is one of the most prestigious sporting events in the world. Wimbledon is also the oldest tennis tournament in the world when it was first organized in 1877.
Many things have changed in the last 142 years – from players' costumes to the quality of their accompanying items. However, behind it is a continuous development of artificial intelligence technology, which has been changing the way images are captured and edited for the public.
Wimbledon has all 18 grass fields. It is also the venue for nearly 700 matches in a two-week period, including men's singles, women's singles, men's doubles, women's doubles and women's matches and many more forms of competition. Six main matches, holding matches attract the most attention, there are an average of about four matches a day. Last year, for the first time, all activities in 18 stadiums were broadcasted online, using a combination of cameras with operators and robots. Therefore, developments in the yard are provided to viewers with unprecedented numbers as before. However, it also created a lot of scenes, too much to screen information in time. This is where IBM believes automation can work.
IBM has worked with Wimbledon organizers at All England Lawn Tennis & Croquet Club (AELTC) for three decades. This unit is in charge of information technology, network security and all digital assets serving customers, including applications and websites, where fans update developments.
In the past six years, IBM has applied AI Watson's intelligence in many ways, but IBM recently increased its use of Watson in Wimbledon. Here, Watson helped capture all the best bits of data in each match and packed them in a two-minute highlight at the end of the game, updating the section that was thought to cause the most labor-intensive.
Simon Boyden, chief architect at IBM, said in a briefing: "We are doing the job in a traditional way that will cost a lot of manpower, expenses and time, from which to support in making match points as quickly as possible. "