Tag Archives:
Watson

Applications of AI in Wimbledon
To do this, AI analyzes factors such as gestures and players' reactions (such as punches on the air celebrating and greeting by touching two fists on each other) and listening to the sound of the crowd, like exhaling and cheering. For the highlights of Wimbledon 2019, IBM said it trained Watson to take advantage of more acoustical data, such as detecting every shot of the ball – making automatic cropping of match highlights closer around the main activities in the innings and can also help determine the series of pay backs.
Misleading AI
Of course, there are problems with deviations in the AI ​​we face for a long time. Wimbledon has many situations that lead to fooling the automated system – the center of the stadium will have more fans (and therefore more noise), while a superstar like Roger Federer might have many fans, creating more cheering sounds than the 89-ranked players in the world. To detect the best action, regardless of these external factors, IBM trained Watson to better identify trends and patterns in acoustics – creating a fourth type of data point to reduce risk of deviation.
This result is enabled via AI OpenScale. IBM launched the AI ​​OpenScale last year, providing a set of automated detection and mitigation tools – constantly monitoring bias-based decision-making based on AI applications. Specifically, for Wimbledon, this technology helps Watson plan to "learn" the overall crowd noise and use it as a neutral mechanism, from which other heights will be measured based on that basic measure.
Ace Index (to score the goal directly)
During the production of video accents, Watson also exploited match statistics for more context. These statistics are created by tennis players (usually players at the district level). They are people who are hired to sit next to the stage to identify subjective data points such as unforced error, other statistical information – such as handing the ball directly or double errors – and important moments in tennis matches, such as points that bring break points, set points, match points.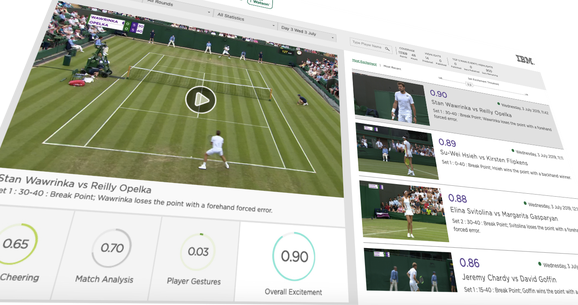 Audiences will surely remember the breathtaking tennis final between Novak Djokovik and Roger Federer at Wimbledon 2019 on July 14th. Wimbledon tennis championship is one of the most prestigious sporting events in the world. Wimbledon is also the oldest tennis tournament in the world when it was first organized in 1877.
Many things have changed in the last 142 years – from players' costumes to the quality of their accompanying items. However, behind it is a continuous development of artificial intelligence technology, which has been changing the way images are captured and edited for the public.
Wimbledon has all 18 grass fields. It is also the venue for nearly 700 matches in a two-week period, including men's singles, women's singles, men's doubles, women's doubles and women's matches and many more forms of competition. Six main matches, holding matches attract the most attention, there are an average of about four matches a day. Last year, for the first time, all activities in 18 stadiums were broadcasted online, using a combination of cameras with operators and robots. Therefore, developments in the yard are provided to viewers with unprecedented numbers as before. However, it also created a lot of scenes, too much to screen information in time. This is where IBM believes automation can work.
IBM has worked with Wimbledon organizers at All England Lawn Tennis & Croquet Club (AELTC) for three decades. This unit is in charge of information technology, network security and all digital assets serving customers, including applications and websites, where fans update developments.
In the past six years, IBM has applied AI Watson's intelligence in many ways, but IBM recently increased its use of Watson in Wimbledon. Here, Watson helped capture all the best bits of data in each match and packed them in a two-minute highlight at the end of the game, updating the section that was thought to cause the most labor-intensive.
Simon Boyden, chief architect at IBM, said in a briefing: "We are doing the job in a traditional way that will cost a lot of manpower, expenses and time, from which to support in making match points as quickly as possible. "